Work From Home:? We have news: some good news, some bad about work hours, productivity, networking, communication. What does this mean for you?
---
Work from home (WFH) is nothing new. A significant number of America's entrepreneurs have somewhere in their story a time when they were running the show "from their basement" or "locked in their spare bedroom". In addition, statewide, national and international organizations may have widely disbursed staff working from home servicing their particular region (NOTE: I worked for such an organization throughout much of the first decade of this century.)
What has changed in the past 18 months is a growing number of organizations questioning whether having an expensive bricks and mortar location works for their company, their employees or their bottom line. The pandemic inspired more traditional businesses to consider if the WFH option works for them.
Now we're getting some preliminary data that can help leaders shape the way they approach the question of downsizing or eliminating their headquarters. Michael Gibbs, Friederike Mengel, and Christoph Siemroth, writing out of the University Of Chicago, analyzed the productivity of large IT companies to determine what effect it had on employee's lives and company's bottom line.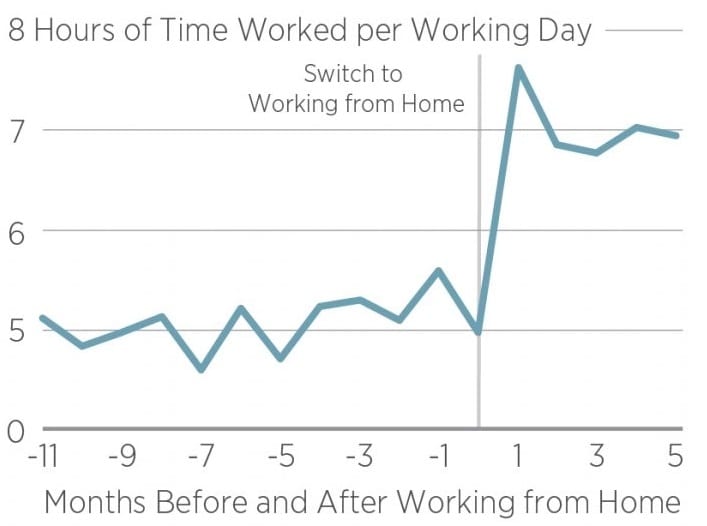 What have we learned? According to their research, total hours worked increased by roughly 30%, including a rise of 18% in working after normal business hours. However, completion of projects or deliverables did not increase. Thus working longer to produce the same means productivity fell by about 20%.
Time spent on coordination activities and meetings increased, but uninterrupted work hours shrank considerably.
Parkinson's Law and Online Meetings
Some in the survey commented to the effect that productivity fell due to all the meetings and the fact that the meetings lasted for the scheduled amount of time regardless of content. Every interaction, which might have been a chat at the office door now required a 30 minute Zoom call.
As is well documented in numerous organizational studies, meetings expand to fill the time allotted. Articulated by Cyril Northcote Parkinson as part of the first sentence of an essay published in The Economist in 1955. This is Parkinson's Law, Thus people feel a scheduled 45 minute meeting should last 45 minutes.
In addition, due to the relative ease of "logging into" an online meeting, the number of participants in any one Zoom call was significantly higher than if it were held face-to-face in an office.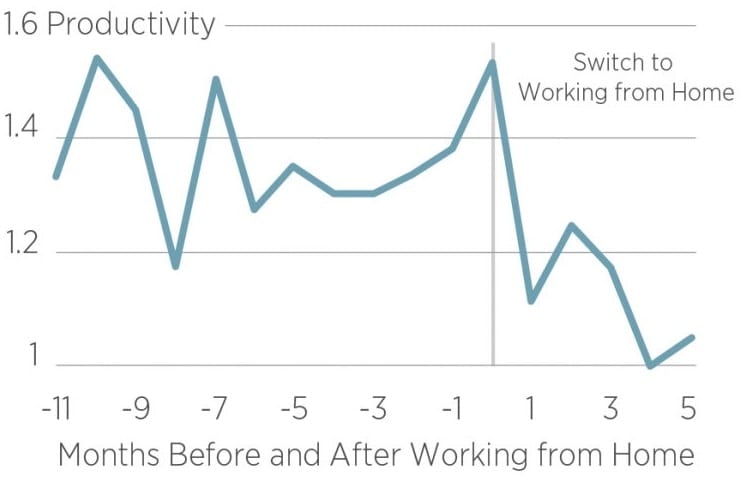 But What About The Children?
Consider employees who suddenly found themselves needing to both work and teach. Children were home from school suddenly. Parents had to spend large chunks of time setting up kids' Zoom calls, tutoring and a dozen other things that would not require the time commitment if kids were back in school or even if school-from-home was a standard way of living and lifestyles were set up to properly accommodate that.
Employees with children living at home increased hours worked more than those without children at home, and suffered a bigger decline in productivity than those without children.
Communication Costs
Despite the ease of communicating digitally, the survey found employees spent less time networking, received less coaching, and held fewer one-to-one meetings with supervisors. These findings suggest that communication and coordination costs increased substantially during WFH, and constituted an important source of the decline in productivity.
The loss of casual networking time may slow career advancement.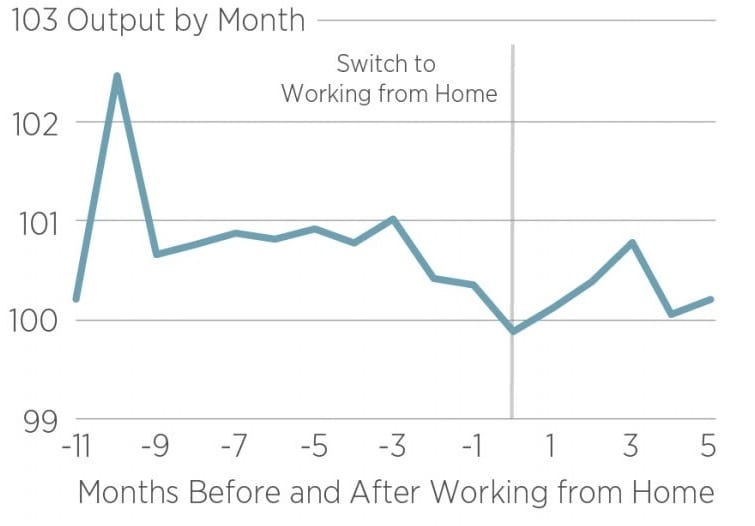 Points To Ponder
As leaders mull over the question; Work From Home…..full time, part-time, never, the choice must be rooted in output.
This raises a dilemma. Some employees may thrive in a work from home environment, while others will struggle due to distractions, lack of focus, or poor motivation. How do we supervise each individual? What type of equity issues does this raise? Is Work From Home something that is earned, like a raise? Or is it a standard option for all employees based upon meeting certain metrics.
One thing for sure, this pandemic is permanently disrupting people's perception of :Going to work".